Austria
ASFINAG – Have a good trip, Austria!
ASFINAG was founded in 1982 as a public limited company, owned by the Republic of Austria (100%). This company was not operatively active, nor in the field of construction neither in the field of motorway operation. Its aim was limited to financing services.

In 1997 ASFINAG was transformed into a company responsible for the entire management of Austria's motorway network. Since that time ASFINAG has the usufructs right and collects tolls for the use of its network. These tolls are the most important financing basis for ASFINAG as ASFINAG receives no money from the state even if the company is still owned by the Republic of Austria.

ASFINAG's network consists of 2,249 km of motorways, 166 tunnels and more than 5,800 bridges. ASFINAG's core tasks include motorway operation, maintenance, construction management and toll collection as well as traffic management. ASFINAG and its more than 3,000 employees are committed to provide responsible and long-term solutions by using new technologies and innovations to make Austria's motorways among the safest and most modern in Europe.


ASFINAG CORPORATE STRUCTURE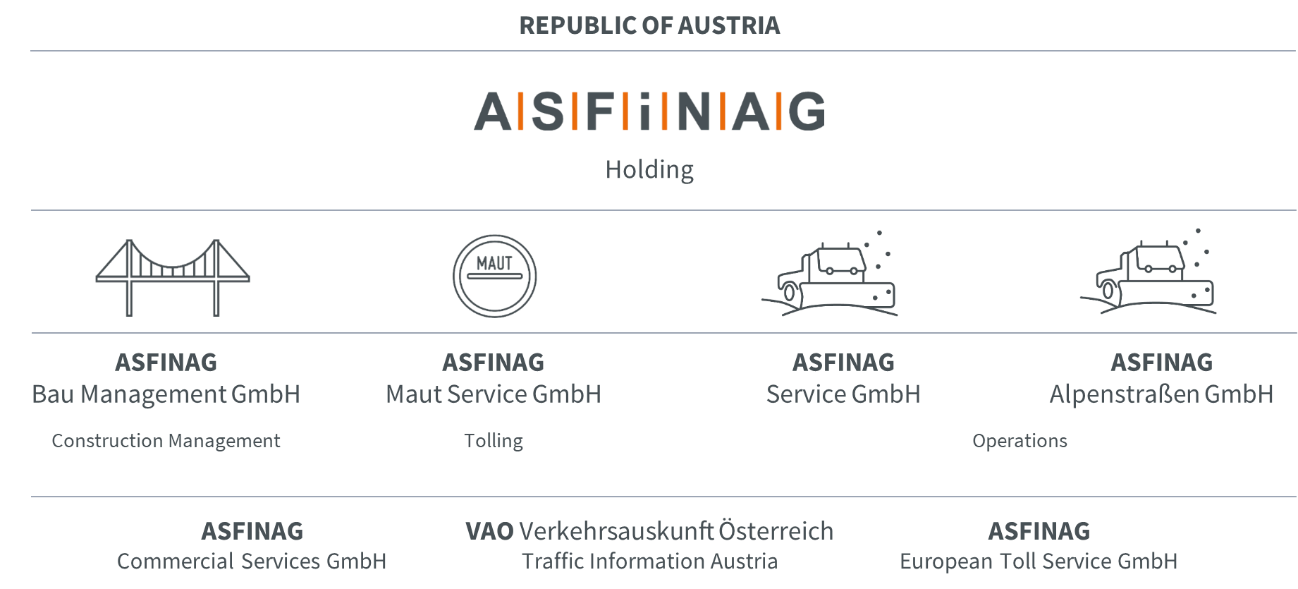 ASFINAG'S MISSION & VISION 2030
Have a good trip, Austria!

Increased safety, good transport connections and a well-developed infrastructure where it is necessary: Your safety is what drives us – you as a customer can reach your destination comfortably and unhindered. A goal that has the highest priority for ASFINAG as your mobility partner in Austria.


Our vision 2030
"As a reliable, innovative and sustainable mobility partner, we connect regions and people in the heart of Europe."


Our mission
Together with our partners, we are ensuring mobility for generations to come. With forward-looking, sustainable and innovative solutions, we represent part of Austria's major shift in mobility.

* We invest in the quality of our network, constantly developing it both ecologically and economically with Austria's overall mobility system in mind.
* As a competent road operator, we offer our customers safe and efficient motorways.
* With our modern toll products & digital information services, we are a customer-oriented service provider.
TOLLING
The Austrian toll system consists of a time-related toll (toll sticker/vignette for vehicles under/equal to 3.5 tons and motorcycles) and a distance-related (mileage-dependent) toll for vehicles over 3.5 tons. The toll revenues belong to ASFINAG, which is also responsible for the toll collection.
ASFINAG also operates special toll sections in Austria's alpine regions charging a distance-related toll for all vehicles which is collected at toll booths or via license plate recognition. In 2020 ASFINAG also implemented a new free-flow tolling solution at two of the six Austrian toll plazas at the motorway A9 Tauern Autobahn which is a major north-south-connection in Austria.
Tolls for vehicles above 3.5 tons are collected electronically via a free flow multi-lane DSRC system.
For cars and motorcycles ASFINAG introduced a digital vignette (directly linked to a vehicle's license plate which is registered in a database) by the end of 2017 in addition to the toll sticker. This product is available online
https://shop.asfinag.at/
and via the ASFINAG App as well as at selected points of sales.
Toll rates
For vehicles with more than 3.5 tons maximum permissible weight a distance-related toll applies on Austria's motorways including surcharges for air and noise pollution since 2017.
Purely electric and hydrogen fuel cell vehicles get a discount of approx. 75% compared to EURO VI emission class vehicles on the infrastructure rate. Further details on the current toll rates for heavy vehicles can be found on
www.go-maut.at/en/
.
The current toll rates for light vehicles can be found on:
https://www.asfinag.at/toll/vignette/
FUTURE TRENDS
Sustainable mobility
With our network of motorways throughout Austria, we contribute significantly to the population's mobility and quality of life, as well as to the competitiveness of Austria as a business location.
But our responsibility goes beyond that: In our role as a major employer and contracting authority, we strive for attractive employment conditions, sustainable supply chains, fair business relations and comprehensive environmental protection.
Our goal is sustainable mobility, and this calls for continuous further development and innovation. For this reason we are active in numerous research projects and are intensifying our cooperation with important stakeholders on a national and international level. This involves a great variety of topics and challenges: From automated traffic and decarbonisation, to health and diversity, and on to climate protection and preserving biodiversity.
To learn more, have a look on our company reports:
https://www.asfinag.at/en/aboutus/company/company-reports
NETWORK
Click 
here
to download the
map of the Austrian motorway network as of April 2022
-
PNG format
STATISTICS
Data as of 31/12/2021 (Source: 2022 Statistical Bulletin)


Companies
Km
 
Toll revenues (VAT & other taxes excluded)
3
2249
 
Euros (million)
2304,30
 
 
 
 
 
Traffic (Average daily)
 
Payment means
Light vehicles
30680
 
Toll stations
6
Heavy vehicles
4750
 
Toll lanes
118
Total
35430
 
ETC lanes or mixed lanes
1181
 
 
 
ETC subscribers
10459062
Services
 
 
 
Rest areas
55
 

(1) ETC lanes: 12 lanes GO-Maut lanes (heavy vehicles), 15 dedicated lanes and 91 mixed lanes (light vehicles)

 
Services areas (wth petrol stations)
87
 
(2) Number of ETC subscribers - heavy vehicles

 
Restaurants
59
 

 

 
Hotels
19
 
 
 
Autobahnen- und Schnellstrassen-Finanzierungs-Aktiengesellschaft (ASFINAG)
Austro Tower
Schnirchgasse 17
A-1030 Vienna
T : +43 (0) 501 08 100 04
F : +43 (0) 501 08 100 20
E : 
This email address is being protected from spambots. You need JavaScript enabled to view it.
W :
http://www.asfinag.at
See all members